Runs on Windows
Windows Mixed Reality Support
Released | Developed by | Published by
MoeNovel
Single Player
Cross-Platform Multiplayer
Partial Controller Support
Achievements
Steam Trading Cards
Adventure
Simulation
Download
Description

System Requirements

How Do I Download?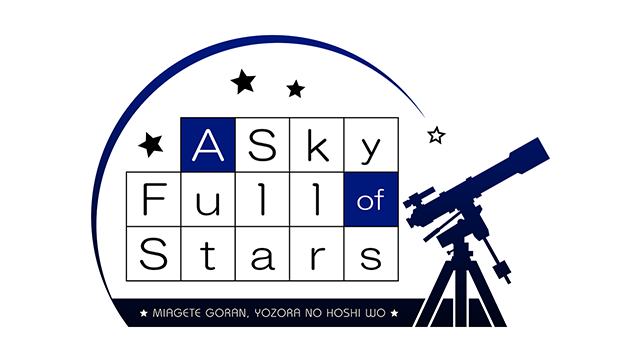 The starry sky spreads far and wide overhead...
This story full of love, comedy, and excitement follows our protagonist and his stargazing friends as they grow together.
"A Sky Full of Stars" is a coming-of-age astronomy tale by the same team who brought you "If My Heart Had Wings".

Childhood friendships, passed-down traditions, deep bonds forged over time, and even deeper feelings all intersect.
Old relationships and moments left in the past are all drawn clearly in "A Sky Full of Stars".

It didn't matter if we were near, far, or anywhere...we always looked to the same sky.
"A Sky Full of Stars" is a tale of young people from different schools' astronomy clubs coming together and gazing at the stars.

Innumerable stars twinkling in the night sky...
To replicate the night sky as accurately as possible in "A Sky Full of Stars", images were created using data from the Hipparcos Catalogue (found at: hipparcos/tycho2catalog) and the "Starry Winds MMD" planetarium engine software.

Voices that sound like they're right there next to you...
Certain scenes in "A Sky Full of Stars" have been recorded using the binaural recording method.
Using both a normal mic and a binaural mic to get in as close as possible, we've been able to come up with an audio experience that offers a natural-feeling closeness with the characters.

A breathtakingly wide-open winter view...
"A Sky Full of Stars" uses the newest methods of visual processing technology.
The images are displayed at 1.5x the size of all previous PULLTOP titles.
The images provide a highly-detailed look into the setting of the story, with even more to draw your eye.
This gives you an even greater immersion in the story.
OS:

 

Microsoft Windows 7/8/10

Processor:

 

Intel Core2Duo or higher

Memory:

 

2 GB RAM

Graphics:

 

Intel HD graphics or higher (VRAM 512MB)

Storage:

 

8 GB available space

Additional Notes:

 

An environment that can display at least 1280×720 pixels Recommended Environment: *When using display adapters that share main memory, the game may not work. *We do not guarantee that this game will run on virtual drives or Virtual PCs (including Apple Boot Camp). *This product uses Ogg Vorbis/Lua/tilua++.
1. Go to http://store.steampowered.com/ and download the STEAM client.
2. Click "Install Steam Now"

3. Launch Steam and login to your account (create one if you havn't already).

4. Then go to 'Games' and click 'Activate a Product on Steam'.
5. Enter the key that we sent you in the email.
5. Congratulations the game has now been added to your account and can be installed/launched from your games library.
If you're still struggling to find where to redeem the key please watch the following video.