Runs on Windows
Windows Mixed Reality Support
Released | Developed by | Published by
Bongfish GmbH
Single Player
Multi-Player
Cross-Platform Multiplayer
Co-Op
Partial Controller Support
Achievements
Stats
Steam Leaderboards
Action
Racing
Shooter
Download

Description

Features

Final Release Content

System Requirements

How Do I Download?
WHEEL TO WHEEL, PRECISION SHOOTING ACTION.
4 Teams of 2. One driver and one shooter. Each Team battling it out to be the first to cross the finish line.

Drivers go flat-out pushing horsepower limits behind the wheel of high-concept super cars in an all out blitz over tarmac and dirt. Shooters push firepower limits in high-tech military grade turrets, covering their driver, taking out opposing vehicles & turrets and jockeying for the most advantages turret positions around the track.

Team-work, intensity, vehicle countermeasures like flares and chaff to fend off incoming fire from opposing team turrets, a steady aim and on-track power-ups that provide an upgradeable edge for Shooter weaponry are needed to capture the checkered flag and championship glory.

Step in. Your next gen motorsports experience STARTS NOW.
EXPERIENCE A GORGEOUS SETTING
The team at Bongfish is very proud of their proprietary game-engine allowing to draw detailed huge outdoor terrains.
See some examples of Calibre 10 Racing Series first race track below.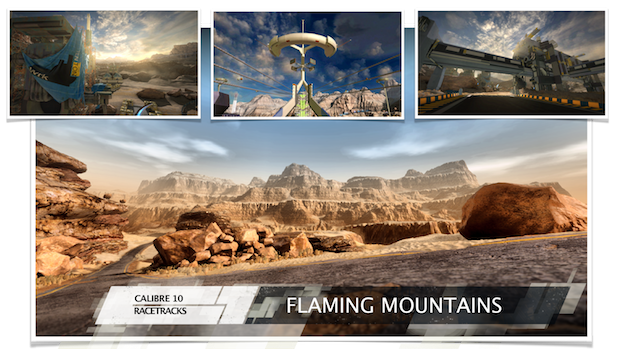 FEATURED ARTIST: SHANE BAXLEY
Shane's legendary Alienware MK2 concept car immediately turned us into fans of his works. You can imagine our excitement when Shane agreed on designing the very first vehicle and set of turrets. Now we are proud debuting the first ALPHA release with the KLOSS racing vehicle.
More on Shane: http://www.breakingcustomdesign.com


Calibre Class Vehicles 1-10 - The full array of Calibre Class vehicles 1-10 will be unlockable in the final release with increased horsepower, handling and counter measures.
Calibre Class Turrets 1-10 - Shooters will be able to man Calibre Class Turrets 1-10 in the final release with even more devastating firepower and ammo then the Alpha Release.
Calibre Class Tracks 1-10 - The competition will heat up as Teams hit the starting grid on the full complement tracks from around the world on the C10 Racing Circuit.
Class Progression System - Compete to become the best of the best and achieve the elusive yet elite Calibre 10 status, where the highest vehicles, weapons, tracks, perks and competition unfolds.
Communication is Key - Only the teams with the highest of skill and communication will rise through the ranks on the C10 circuit.
MINIMUM:
OS:

Windows Vista 

Processor:

Intel Dual-Core 2.4 GHz or AMD Dual-Core Athlon 2.5 GHz 

Memory:

4 GB RAM 

Graphics:

NVIDIA GeForce 8800GT or AMD Radeon HD 3830 

DirectX:

Version 9.0c 

Network:

Broadband Internet connection 

Storage:

4 GB available space
RECOMMENDED:
OS:

Windows 7/Windows 8 

Processor:

Intel Core i7, AMD Phenom II X4 or better 

Memory:

4 GB RAM 

Graphics:

NVIDIA GeForce GTX 570, AMD Radeon HD 7750 with 1 GB VRAM or better 

DirectX:

Version 9.0c 

Network:

Broadband Internet connection 

Storage:

4 GB available space
1. Go to http://store.steampowered.com/ and download the STEAM client.
2. Click "Install Steam Now"

3. Launch Steam and login to your account (create one if you havn't already).

4. Then go to 'Games' and click 'Activate a Product on Steam'.
5. Enter the key that we sent you in the email.
5. Congratulations the game has now been added to your account and can be installed/launched from your games library.
If you're still struggling to find where to redeem the key please watch the following video.