Runs on Windows
Windows Mixed Reality Support
Released | Developed by | Published by
Cherry Pop Games
Single Player
Multi-Player
Cross-Platform Multiplayer
Partial Controller Support
Full Controller Support
Achievements
Steam Trading Cards
Steam Workshop
Cloud Saves
Steam Leaderboards
Simulation
Sports
Download

Description

Just Updated

Reviews

System Requirements

How Do I Download?
Pool Nation, Steam's Only Pool Game, with WORKSHOP integration COMING SOON in our Crazy Mode the Box Of Tricks (BETA Access Available)! But fear not, Pool Nation is not just about trick-shots, Pool Nation is a serious pool sim, the heart of the game is our world renowned Physics engine, the balls will behave as they would in the real world - Fancy a game with Aiming Assist turned off - you go ahead - Play Pool Nation Your way!

With eleven addictive game modes, including the adrenaline pumping Endurance, extensive career modes and seven exciting online modes including the new Speed Pool! Not forgetting the Box of Tricks coming soon to Steam, giving you the ability to imagine, build and share your most outlandish trickshots with the world. Utilizing a variety of objects, including Ramps, Pikes, Loop the Loops and Speed up strips, the Box of Tricks is limited only by your imagination.

With Pool Nation, gameplay is king! Online or offline, the ease of control gives you the ability to pull off shots you wouldn't dream of in the real world. The balls behave exactly as they should use the table surround to create the most unbelievable trickshots and view them back in super slow mo.

The graphics are as shiny and pixel-perfect as the physics, with beautiful locations, stunning exterior landscapes, eye-catching interiors, the ability to change the time of day, and customize your games with a huge array of balls, cues and table decals creating your ideal pool playing environment. Every detail has been considered and polished, from the super-detailed table baize and deforming cushions, to the explosions of chalk dust from the cue tip.

Pool Nation - the Community's Pool Game!
Pool Nation has been updated, including the Box of Tricks, and UK 8 Ball!!!

This update includes, but is not limited to:
Box of tricks unlocked.
Workshop integration (BETA) added. Share trickshots with other people.
8Ball UK rules added (including leaderboards and online play)
Walkaround camera added. (Activated/deactivated by pressing A when it is your turn)
New 'mode' icons to indicate which view mode you are in. (walkaround, shot taking, replaying etc)
Fix to hopefully prevent non-gaming/unsupported devices interfering with controls (steering wheels etc)
Replay HUD visuals updated to now show replay speed in a more elegant way.
Reply control panel can now be hidden (by clicking the left stick on controller)
Fixed incorrect reflection maps being used on cues/tables in certain locations
We no longer display the 'archive_' prefix when listing saved archive matches.
Alt-Tab crash fixed
Favouriting shots with controller now has correct button hint.
Floating balls over pockets in Endurance are now frame rate independent.
Online 'spectator' bug where both players think it is other other player's turn fixed.
New foul messages for UK 8 Ball specific fouls
Nominating with keyboard and mouse in Straight now works correctly
Fixed issue with 'Force Forfeit' message being shown at incorrect times.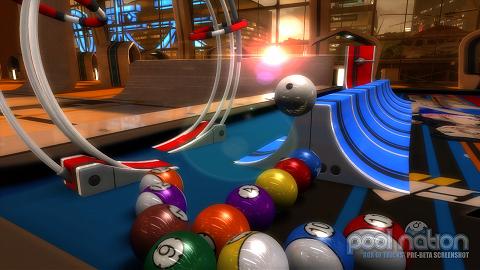 "Yes, it's a pool game, and you could argue that there's not much more to say beyond that. But pool is a rare sight on the PC, unless it's of the top-down Flash variety, and this is a bloody good example of the form. 'Hole in one', as they say at the Crucible."
ROCK, PAPER, SHOTGUN

""In fact it could be the shiniest game to ever grace a console. Now as Pool Nation nears its North American debut, Cherry Pop Games shows that this is anything but a port to another console but rather an upgraded version that took everything that made the 360 version great and added even more."
97/100 – Game Focus

""It's easy to suggest that Pool Nation is the finest example of virtual pool... but to do CherryPop Games' work justice it must be said that they have delivered what is in fact one of the best pool videogames ever to grace a console.""
95/100 – Bio Gamer Girl
Minimum:
OS: Windows XP, SP3/WINDOWS VISTA SP2/WINDOWS 7
Processor: Dual Core, AMD/INTEL 2.6 GHZ
Memory: 2 GB RAM
Graphics: 256 MB OF VIDEO MEMORY ATI RADEON X1600/NVIDIA GEFORCE 7600/INTEL HD 2000 OR HIGHER
DirectX: Version 9.0
Network: Broadband Internet connection
1. Go to http://store.steampowered.com/ and download the STEAM client.
2. Click "Install Steam Now"

3. Launch Steam and login to your account (create one if you havn't already).

4. Then go to 'Games' and click 'Activate a Product on Steam'.
5. Enter the key that we sent you in the email.
5. Congratulations the game has now been added to your account and can be installed/launched from your games library.
If you're still struggling to find where to redeem the key please watch the following video.