Runs on Windows
Runs on MAC
Runs on Linux
Windows Mixed Reality Support
Released | Developed by | Published by
Ghost Crab Games
Single Player
Cross-Platform Multiplayer
Local Co-Op
Partial Controller Support
Full Controller Support
Achievements
Steam Trading Cards
Action
Shooter
Download

Description

Features

Reviews

System Requirements

How Do I Download?
Drive to Hell is an action-packed shooter where you'll take a ride through an army of monsters to exact revenge on the Demon King for destroying your favorite dive bar. Enemies assault from all sides, each with its own special personality and attack style. To take them down, you'll have access to many weapons and items as well as unique vehicles, special abilities and more!

5 levels with 5 waves apiece, each with its own unique look
3 difficulty Settings, challenging beginners and experts alike
Up to 4-player local co-op
Endless survival mode
Mirror mode
Over a dozen power-ups & weapons
Hordes of deadly monsters including 5 bosses
Numerous vehicles each with their own stats & special abilities
Trophy system with a reward for completion
Original soundtrack
3 control options (keyboard/keyboard & mouse/controller)

Customizable options for sound & display
Vertical display resolution options
Steam achievements & trading cards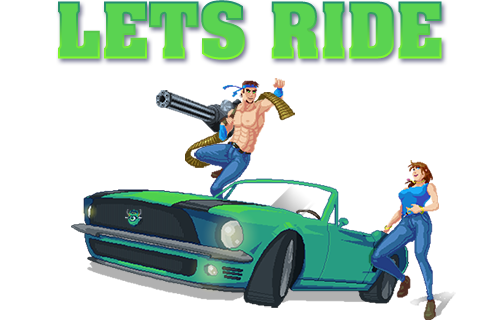 "The game tests your reflexes, aim, enemy management, and other skills simultaneously, does not let up or take it easy on the player. I can't count the number of time I barely made it through a wave, and the sense of accomplishment I had afterward was always great."
3.9/5 – Mash Those Buttons

"Drive to Hell is a simple yet challenging game that can be enjoyed in either short or long bursts, Ghost Crab Games, the developers have clearly drawn inspiration from older titles like Outrun and Spy Hunter while at the same time adding new features and more reasons to keep you coming back time and time again. If you enjoy this sort of arcade non-stop action, then your epic quest to avenge the destruction of your favorite bar (yep, that's the plot) will be a fun one."
No Review Left Behind

"Drive to Hell is a breath of fresh air, defying convention while also building on a solid foundation to deliver an excellent indie arcade experience. It has unique enemies from the titular underworld, a bounty of bonuses to collect, and a soundtrack that wont leave your head for months. These are the types of games which you just don't see often in the current age of mobile ports and Greenlight disasters, and that alone should warrant your attention."
Geekenstein
Windows
OS:

Windows XP 

Processor:

Intel Core 2 Duo 2GHz 

Memory:

1 GB RAM 

Graphics:

DirectX 9.0c compatiable video card with 256 MB video memory 

DirectX:

Version 9.0c 

Hard Drive:

550 MB available space
Mac OS X
OS: Mac OS X 10.6
Processor: Intel Core 2 Duo 2GHz
Memory: 1 GB RAM
Graphics: 256 MB video memory
Hard Drive: 550 MB available space
SteamOS + Linux
OS:

Ubuntu 12.04 or later 

Processor:

Intel Core 2 Duo 2GHz 

Memory:

1 GB RAM 

Graphics:

256 MB video memory 

Hard Drive:

550 MB available space
1. Go to http://store.steampowered.com/ and download the STEAM client.
2. Click "Install Steam Now"

3. Launch Steam and login to your account (create one if you havn't already).

4. Then go to 'Games' and click 'Activate a Product on Steam'.
5. Enter the key that we sent you in the email.
5. Congratulations the game has now been added to your account and can be installed/launched from your games library.
If you're still struggling to find where to redeem the key please watch the following video.